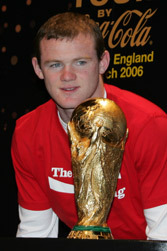 Manchester United manager Sir Alex Ferguson has dismissed newspaper reports that striker Wayne Rooney has a gambling problem.
"It is just nonsense but these things will happen to the boy throughout his life," said Ferguson.
"We have had this with George Best, we had it with Paul Gascoigne and we had it with David Beckham.
"We know Wayne Rooney. It is rubbish and we shall dismiss it the best we can," he added.
Reports claim Rooney has lost £700,000 and owes the money to one of Michael Owen's business partners and the debt is causing a problem between the England team-mates.
FA spokesman Adrian Bevington confirmed England boss Sven-Goran Eriksson will talk to Rooney following the claims in the Sunday Mirror.
But the Football Association added that it was "unaware of any problems in the England team dressing room".
According to the newspaper, Rooney is one of a number of England players involved in betting on sports other than their own.
Rooney's spokesman told the Sunday Mirror: "We have no comment to make."
However, Bevington added: "We should state there is little the FA can do to prevent any individuals gambling privately on horse or greyhound racing though there are rules preventing betting on any football matches or competitions they are involved in."
Fifa regulations brought in recently mean that players at this summer's World Cup will have to sign a declaration that they will not gamble on the tournament, with the threat of expulsion if they are caught out.
But there are no rules preventing them from betting on sports they are not involved in.
The former Everton man, and the player on whom England's World Cup hopes largely rest, was yesterday given the Premiership Player of the Month award for March before United's match against Arsenal.
He certainly showed little sign of a man struggling with his demons as he scored one goal and set up the other in the 2-0 win over Arsenal.
Subscribe to World Soccer – The essential football magazine.