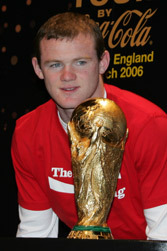 Wayne Rooney believes England have no reason to be afraid of anyone at this summer's World Cup finals.
Manchester United striker Rooney said: "I don't think we need to fear anyone. This is probably the best group of players we have had since 1966.
"There is a mixture of youth and experience in the team.
"We are going into every game confident we are going to win it and, hopefully, we will be in the same situation when the World Cup comes round."
Rooney is regarded as a key member of the england team and he has been in sparkling form for Manchester United this season.
Rooney believes England's position as one of the favourites to win the competition is fully justified.
"We have a lot of match-winners, which can only help, and the spirit is certainly the best it has been since I have been involved in the squad.
"I cannot wait for the World Cup to come around.
"Hopefully, from now until the end of the season I can keep myself fit, free from injury and can go to the World Cup fresh."
Subscribe to World Soccer – The essential football magazine.