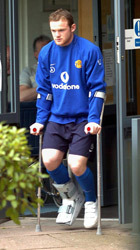 Wayne Rooney will discover today what his chances of playing in the World Cup finals are.
The England striker underwent a scan on his broken foot on Thursday and the results will be analysed by specialists on Friday morning.
Manchester United doctor Tony Gill will then tell England team doctor Leif Sward what the results were.
"It will be huge for the country if he can be ready during the World Cup," said England coach Sven-Goran Eriksson.
"It is important to wait until he sees the scan, then we will know the answer for sure."
Eriksson said he had not spoken to Rooney since he had the scan on Thursday.
Fifa has given Eriksson until 30 May for England to decide whether Rooney will travel to Germany.
"Each team has to confirm by May 30 that their players are fit," said Fifa medical officer Dr Jiri Dvorak.
"If Rooney is on the list that is confirmation it is anticipated he will have recovered in time to participate."
However, if Rooney broke down with the foot injury between 30 May and 9 June coach Eriksson would still be able to replace him in his squad.
United have denied reports that the sacking of Dr Mike Stone, the doctor who was overseeing Rooney's recovery, is connected with his handling of the situation.
"Dr Stone has left after a difference of opinion on a non-footballing and non-clinical issue," said a statement.
"It had nothing to do with any medical treatment to a United player."
Eriksson refused to get drawn into the issues surrounding Stone's departure.
"Man Utd took the decision they took," said Eriksson.
"I suppose they are extremely well covered behind Mr Stone. I am not worried about that."
Earlier this week Sward claimed Rooney was making "a perfect recovery".