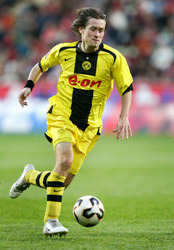 Czech Republic midfielder Tomas Rosicky has passed a medical at Arsenal and is expected to complete a move from German club Borussia Dortmund.
Hans-Joachim Watzke, commercial manager at Dortmund, told Czech paper Mlada Fronta that Rosicky, 25, had flown to London with his manager Pavel Paska.
"I am surprised it did not come to light earlier," said Czech Republic coach Bruckner.
"I must now admit that Tomas is undergoing medical tests."
Rosicky cost Dortmund £18m – a Bundesliga record – when he arrived from Sparta Prague in 2001.
"There have been about 70 clubs interested and the move to Arsenal would be a big kind of encouragement before the World Cup finals start," Czech coach Karel Bruckner told CTK.
Rosicky has been a long-standing Atletico Madrid target and Paska announced four weeks ago that his client had joined Atlético. Rosicky, however, has maintained that other clubs were interested in signing him.
"I am not taking anything for granted," he said recently.
"There are some people at the club who want me to leave and some want me to stay. I haven't ruled out staying at Dortmund. I feel that we are making progress and we are playing more attacking football now."
Confirmation that he would not be joining Atletico came from a Dortmund official, Hans-Joachim Watzke.
"He has travelled with his manager Pavel Paska to London," he said. "The deal with Atletico is off. There were several other clubs interested but Tomas had his preferences."
Rosicky has scored 20 goals in 154 games for Dortmund in his five seasons in Germany with a further 15 goals in 53 appearances for his country.