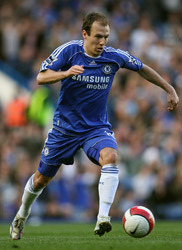 Bernd Schuster has admitted that he would be 'much happier' if Real Madrid had already signed Chelsea winger Arjen Robben.
the Dutch flyer has been linked with a move to Real over the summer after failing to agree terms over a new contract with the Premiership outfit.
According to the latest reports Chelsea will sell Robben if he does not sign a contract extension in the next seven days.
Real coach Schuster, who is also hoping to sign Feyenoord youngster Royston Drenthe, remains hopeful a deal can be concluded.
"I would be much happier if they were here," Schuster told AS in regard to Real's bid to sign the pair.
"In the end there could be another surprise. We will see if it is possible for it to be done.
"The signing of Robben is very important for us.
"We will see. It could be [tricky]. It is necessary to go slowly. These are things that I say.
"It is necessary to cover these positions more than others because, when the season starts, nothing more can be done. We need to be prepared to make signings until the final day of the window."
Meanwhile, Schuster admits he would be surprised to see Jose Antonio Reyes, who spent last season on loan at Real, join city rivals Atletico.
He said: "We had options to keep him and it would surprise me if he goes there."