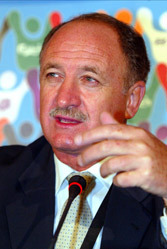 Luiz Felipe Scolari has told the Football Association that they would be foolish to rule out a foreign appointment as the next England coach.
With Sven Goran Eriksson's tenure as England coach coming to a close, there has been speculation that the FA will appoint an English manager as his successor.
Scolari admits he has had preliminary talks with The FA and believes he is more than capable of doing the job.
"I believe that a foreign coach could still triumph with England," he told the Daily Star.
"What has happened with Eriksson should not and does not affect other foreign coaches taking over.
"I had an informal meeting with the English federation. My contract finishes with Portugal this summer, but I still have not decided my future.
"If we won the World Cup I might stay."
Scolari believes his time in charge with Brazil has given him the required experience of dealing with big-name players.
"I do not feel I am in a race to be the next England boss. It is great my work and career has been recognised," he added.
"Dealing with all the Brazilian stars is tough work. I think it would be easier to manage the likes of (David) Beckham, (Michael) Owen, (Wayne) Rooney and (John) Terry.
"Working in England would be great. The atmosphere would be similar to Brazil because the national team is so important.
"Taking this job would be nothing to do with money. I am 57 years old and still have a lot of ambitions in my life. I feel I am still young and can do this job."
Subscribe to World Soccer – The essential football magazine.