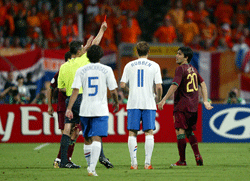 World Cup Odds – Don't look at odds from one bookmaker, compare the latest odds from 23 on one page – Click here now.

Luiz Felipe Scolari described Portugal's 1-0 win over Holland was an "heroic victory" after his side were reduced to nine men towards the end of the game.
The match finished nine against nine after 16 yellow cards and four reds but Scolari exonerated his players and blamed Dutch play-acting for the carnage.
"In three-and-a-half years of coaching Portugal I've never ended a match with just nine players," said the coach.
"Fifa always talks about fair play but tonight we saw several gestures that were anything but."
Portugal had midfielder Costinha sent off just before the break and Deco followed him in the second half for a second yelllow card.
Scolari admitted: "there were excesses on both sides – but the sending off of Deco was provocation."
Portugal skipper Luis Figo said: "From the start of the tournament our great strength has resided in our unity and the great support of the whole country.
"It was an extremely difficult game. We were good in the first half. After we started playing with nine men it was a lot of work.
"The team should be congratulated for demonstrating such character."
Maniche blamed the Russian referee, Valentin Ivanov, for being too hasty to brandish cards.
"We are a talented squad and we deserved the victory," said Maniche.
"I think we won because we are a great group, a group of talented players, a group of friends too – this is a tasty win for Portugal.
"The referee did not contribute to the spectacle. I don't think that it was such a violent match to merit so many sendings off."
Holland coach Marco van Basten was also critical of referee.
"It is a pity the referee made a mess of this game," said Van Basten.
"It was an open and very spectacular game but we could not score a goal.
"I think in the second half we only played 20 or 25 minutes of football. There was little playing time with all the injuries and the players going down all over the place.
"What is also regrettable is that the refereeing has such an influence on such an important match.
"They stopped the game from being a pretty spectacle."
The number of bookings equalled the World Cup record which was set in 2002 when Germany played Cameroon. The four dismissals was a new record, prompting Fifa president Sepp Blatter to criticise the match offical.
"There could have been a yellow card for the referee," said Fifa president Sepp Blatter. "He was not at the same level as the players."
"This was a game of emotion, with exceptional drama in the last instant, with a deserved winner," Blatter added.
"It was a great show with intervention by the referee that was not consistent and (had a) lack of fair play by some players."
World Cup Odds – Don't look at odds from one bookmaker, compare the latest odds from 23 on one page – Click here now.