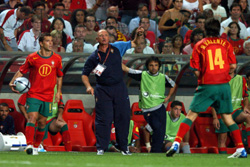 Portugal coach Luiz Felipe Scolari saluted his team after their dramatic penalty shoot-out victory against England, which put them into the semi-finals of Euro 2004.
"All wins are delicious, but this one especially, after everything that happened, it was spectacular," Scolari said.
"I said! One Portuguese is worth, with his enthusiasm, with his role, the 40,000 English that are here.
"And to all the Portuguese, congratulations."
Portugal won 6-5 on penalties with goalkeeper Ricardo saving from England substitute Darius Vassell, before firing home the winning penalty himself.
Scolari said he believed the victory would give the team the momentum to go even further.
"Things are rolling now for us, with motivation, with the people joined with us," said the Brazilian.
"Thank God for everything he's given us, culminating with that penalty that Ricardo both saved and made. That's the kind of thing that makes us thank God."
"We're going to study well, we're going to work well and recover because the game we have next is one more chance to pass on to the next phase."