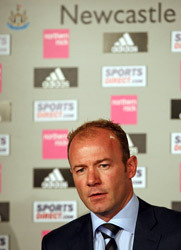 Newcastle's decision to appoint Alan Shearer as manager until the end of the season, was a huge gamble by the club's owner Mike Ashley.

No, it wasn't an April Fool. Newcastle's appointment of Alan Shearer as manager until the end of the season was the last desperate act of a club slipping closer and closer to relegation.
Newcastle owner Mike Ashley turned to Shearer because, with eight games of the season remaining, he could see disaster looming. Under first-team coach Chris Hughton – who was a stand-in for the hospitalised Joe Kinnear, himself a temporary replacement for Kevin Keegan – Newcastle had slipped into the bottom three, two points from safety.
With difficult games looming against the likes of Chelsea, Liverpool and Aston Villa, not to mention fellow relegation candidates Middlesbrough and Stoke, Ashley was fast running out of options.
Shearer has been praised by some for having the guts to take a job that he had previously rejected. In the past he cited inexperience and a reluctance to play second fiddle to Keegan, the club's other great messiah.
But what does Shearer now have to lose? If he saves Newcastle from relegation, his decision will have been vindicated. He will have had an opportunity to see the club's inner workings up close and decide whether to carry on next season or return to the TV studio.
If the club are relegated, he can blame Ashley and the "London mafia" who have done so much to alienate the fans since the takeover in 2007.
But whatever happens, given the club's recent unstable history, it is hard to envisage Shearer still being in charge of Newcastle a year from now.
There are those on Tyneside who suggest that Newcastle will only be able to experience some long-term success when they have exhausted all of the club's potential messiahs. The club, it is argued, need a manager who does not have the emotional baggage and unrealistic expectations that inevitably accompany a local hero such as Keegan or Shearer.
Newcastle is a club that has become addicted to short-term fixes, whereas across the Premier League it is increasingly clear that long-term stability breeds success.
Long-term deal
At Liverpool, Rafa Benitez recently extended his contract until 2014. Despite the upheaval and uncertainty of the club's ownership status under George Gillett and Tom Hicks, Liverpool's priority has been to secure their manager on a long-term deal.
The Spaniard joins the ranks of Alex Ferguson (in his 23rd season at United) and Arsene Wenger (13th season at Arsenal) as further evidence of the value of standing by your man.
Ferguson still refuses to set a retirement date, though his son Darren recently hinted at two more seasons, while, over at Arsenal, Wenger has survived poor mid-season form – and resignation calls from some – to reach the Champions League quarter-finals, the FA Cup semis and slip back into the top four.
Chelsea continue to defy convention. Up until days before Luiz Felipe Scolari was sacked, chief executive Peter Kenyon was insisting that the Brazilian would stay. But Kenyon, having wanted to keep Jose Mourinho, was again overruled by club owner Roman Abramovich.
Further down the food chain, the teams most likely to break into the top four are Aston Villa and Everton, two clubs where their managers, Martin O'Neill and David Moyes, have been backed by their chairman with cash and a long-term contract respectively.
Below the top six, though, the managerial changes continue apace. There have been mid-season changes at seven clubs – Newcastle, Chelsea, Tottenham, Portsmouth, Blackburn, Sunderland and West Ham. Now compare those with the eight last season – at Newcastle, Chelsea, Tottenham, Derby, Wigan, Fulham, Bolton and Birmingham.
Interestingly, the same names crop up again, suggesting that the lessons have not been learned.