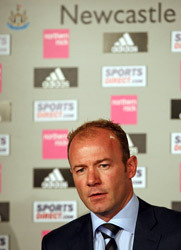 After nine months of action we're down to the last round of Premier League matches this Sunday.
Alan Shearer remains 'totally convinced' that Newcastle United can avoid relegation from the Premier League on Sunday.
The Magpies returned to the bottom three following a 1-0 defeat at home by Fulham as Hull City drew at Bolton Wanderers.
Shearer has won just one of his seven games since taking charge at St James' Park in early April, but is feeling confident ahead of the trip to Villa Park.
"The question's been asked on four or five occasions over the last four or five games of 'is this the biggest game of your career?'" said Shearer on Sky Sports News.
"I keep answering 'yes' because it's the next one, but we know what's at stake, we know what's riding on it.
"I'm pretty confident we can go there and give our great fans something to shout about, I really am."
The Newcastle legend is also confident that a win against Villa will be enough to keep the club in the Premier League next season.
He added: "I'm totally convinced we'll get out of it and I think, more importantly, so are my players.
"I asked them to forget last weekend's result. I thought we played well and whether we had good decisions or bad decisions, it's gone, we can't change that.
"What we can change is this weekend. I believe if we go there and we win, it will be a very, very good day for us."
With North East rivals Sunderland and Middlesbrough also still involved in the battle for survival, Shearer confirmed he will be keeping in touch with scores from elsewhere.
"I think you have to know what's going on around you and looking at other results," he continued.
"We'll be aware of what's going on as we might have to shape the game for the last five or 10 minutes with what's going on in the other games.
"I think it's important that we are aware."
After nine months of action we're down to the last round of Premier League matches this Sunday.
For more fascinating features, subscribe and save 30% and use the below link?