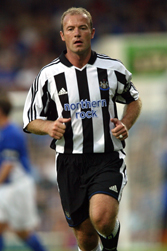 Newcastle striker Alan Shearer has declared himself out of the running to replace Graeme Souness as manager.
Souness was sacked yesterday after a poor run of results left the club hovering above the relegation zone.
Shearer, 35, will assist caretaker manager Glenn Roeder for Saturday'e encounter with Portsmouth, but does not intend to apply for the manager's position.
"Let me say here and now that I do not want to be the next manager, the time is not right for me or the club," he told The Sun newspaper.
"Things are set up for someone to do well. I hope that someone is the next manager. I just know it will not be me.
"That is not meant as a slight on the club. I am just thinking of what is best for Newcastle United and, right now, it would not be the best thing to have Alan Shearer as manager.
"I have stood up and said that to the players and Glenn has ruled himself of being the permanent boss too."
Shearer believed that Souness had suffered this season due to the number of injuries to key players.
"I can only have sympathy for Graeme. He worked his socks off trying to get things right here," he said.
"But he was hampered by a horrendous injury situation that no team could have coped with."
Subscribe to World Soccer – The essential football magazine