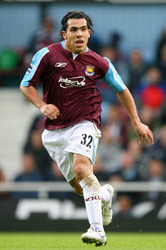 Sheffield United have seen their bid to regain their Premiership status rejected by an arbitration panel.
Sheffield United launched an appeal after they were relegated on the last day of the season and West Ham stayed up.
The Premier League had decided not to dock West Ham points after the club were found guilty of acting improperly and withholding vital documentation over the ownership of Argentinina pair Carlos Tevez and Javier Mascherano.
An arbitration panel has now upheld the Premier League's decision, meaning Sheffield United must now begin preparations for life in The Championship.
West Ham had earlier been fined £5.5m for their handling of the duo's deals.
The Blades hoped the panel would order a new disciplinary commission to deal with the London club.
Sheffield United also lost another claim – made jointly with Fulham – that the Premier League should have forced West Ham to de-register Tevez.
A tribunal which was set up by The Premier League took place last month but a final verdict was delayed for two weeks while the decision was overseen by a three-man panel headed by retired High Court judge Sir Philip Otton.
A statement from the arbitration panel read: "The tribunal have found in favour of the FA Premier League on both issues and dismissed the claims of Sheffield United FC and Fulham FC."
"The tribunal had much sympathy for Sheffield United's grievances.
"However the tribunal had to apply the principles of judicial review and determine whether the decision was irrational or perverse.
"This is a very strict test and is very difficult to satisfy.
"It concluded that it was impossible for this tribunal to find that the decision was irrational or perverse."
A statement on Sheffield United's website said: "We are obviously very disappointed by this conclusion.
"In particular, in circumstances where the tribunal recognised that the outcome of the decision turned out to be 'unfortunate in the extreme', and that Sheffield United have done nothing wrong to merit this outcome."