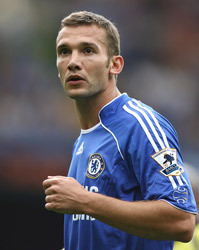 Click here for our full Euro 2008 BestPrice match coupon, including England v Israel, Italy v France & Wales v Germany!
Chelsea striker Andrii Shevchenko has admitted he does not know why he has not been picked for Chelsea this season.
Jose Mourinho, has insisted that Shevchenko has not been match fit following a back injury. But Shevchenko, who played for 55 minutes in Ukraine's 2-1 friendly win over Uzbekistan on August 22, disagrees.
"I don't know why Mourinho isn't playing me – I don't understand it," said the Ukrainian.
"But I'm not worried. I will just wait for my chance to come."
Shevchenko played in Chelsea's pre-season tour of the United States and then appeared in the subsequent friendlies against Feyenoord and Rangers. He did not play in the Community Shield against Manchester United on August 5 even though he expected to feature.
At the time, Shevchenko's adviser Fabio Parisi, said: "It's a small problem and it's not something that has suddenly happened. His back is tired, it's been a gradual thing. Jose Mourinho did not want to take the risk [in the Community Shield]."
The striker, who was signed from Chelsea for £30m in the summer of 2006, has failed to make an impact at Stamford Bridge.
During his first season, Shevchenko scored 14 goals from 51 matches before the hernia surgery meant he had to miss the Champions League semi-final against Liverpool and the FA Cup final.
"He's got to wait for his opportunity and when he gets it, he has to take it," said Steve Clarke, the assistant manager. "There are another three strikers there as well as Shevchenko."
Shevchenko's former club Dynamo Kyiv have said they are interested in taking the player on loan, while Milan admit they were priced out by Chelsea in their attempt to re-sign Shevchenko.
Meanwhile, Michael Ballack's Chelsea future appears uncertain after Germany's coach, Joachim Löw, yesterday claimed the player was baffled by the club's decision to omit him from their squad for the Champions League group stage.
"I discussed it with Michael and he could not fully explain Chelsea's decision to me," said Löw. "Chelsea's doctors estimate he will not be able to play for two to three more months, but Michael is much more optimistic and expects to play sooner. For us, Chelsea's decision isn't justifiable."
Click here for our full Euro 2008 BestPrice match coupon, including England v Israel, Italy v France & Wales v Germany!