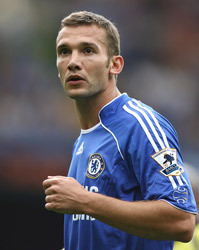 Help us with a Sport and Betting Survey! Click here to take part now.
Chelsea striker Andrii Shevchenko has accepted libel damages over a claim made by the Daily Mirror newspaper that he was a 'snitch' at the club.
Shevchenko's solicitor, John Kelly, claimed that the publication of allegations on four separate occasions this year had 'damaged his reputation, distressed him and his family and caused embarrassment for him with his club'.
The first article appeared in the Daily Mirror in January and claimed that Shevchenko was reporting back to the club's owner Roman Abramovich. It was also suggested that the deterioration of relations between coach Jose Mourinho and Abramovich was in part due to Shevchenko's arrival at Stamford Bridge.
Shevchenko's legal advisors issued an immediate denial but the next day the same newspaper claimed the Ukrainian had pleaded with Abramovich to sack Mourinho and replace him with his former coach at Milan, Carlo Ancelotti.
The newspaper also alleged that Shevchenko was a 'dressing room spy' for Abramovich.
However, a month later the Mirror published a fourth article headlined: "Sheva – yes it's true, I've complained about Chelsea manager".
The story claimed the player had told a German web site he had played for better coaches than Mourinho and would have been happy to leave Chelsea on loan in the January transfer window.
Shevchenko's lawyer said he did not provide any such interview to the site.
Help us with a Sport and Betting Survey! Click here to take part now.