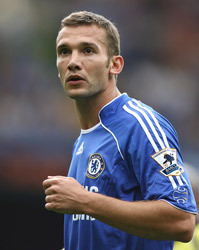 Help us with a Sport and Betting Survey and win a £50 Free Bet! Click here to take part now.
Chelsea striker Andrii Shevchenko has revealed that he would like to end his career in the United States.
The 30-year-old, who joined Chelsea from Milan for £30m in May 2006, has endured a frustrating first season in English football.
Shevchenko told Sports Illustrated.com: "Soccer is growing in the US and I would like to be a part of that.
"I played there last summer against the Major League Soccer All-Stars and I saw that it is definitely improving."
Shevchenko, who missed Chelsea's FA Cup final victory over Manchester United on Saturday because of a groin injury, admits he has not been at his best this season.
"It wasn't a great season but it hasn't been the worst," he stated.
"People always expect a lot from me. I wasn't well in the first four months, partly because of fatigue from the World Cup and partly because of the injury I was carrying.
"But then I had a good stretch in the middle of the season. In the end, despite everything, I ended up with 14 goals and 11 or 12 assists – and that's not a bad season.
"I know people wanted 30 goals a season but the reality is that it can't happen every season. With all the problems I had, I don't think I did that badly."
Shevchenko felt he was not played in his best position, but admitted that he was happy to help the team in any capacity.
"I didn't play in my position this year," he added. "I wasn't the key of the attack.
"I was playing further behind, away from goal, which is different from how I played at Milan and maybe that's why Didier Drogba scored so many goals this year.
"We made a good partnership with me setting him up some of the time. At Milan I played in my natural role. Here I had to adapt to be something else and I did it so I could help the team.
"The main priority for me is feeling well next season."
Help us with a Sport and Betting Survey and win a £50 Free Bet! Click here to take part now.