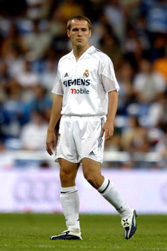 Newcastle United boss Graeme Souness has confirmed that he will bid for Michael Owen, should he decide to leave Real Madrid in the summer.
Although Owen has insisted that he is happy with life in Madrid, his failure to earn a regular starting place has prompted speculation about a return to England.
Souness is teh first manager to express an interest in signing the former Liverpool man.
"Owen is a player who will excite fans at this club. He's only 25 and very talented," said Souness.
"I don't think we're the only ones monitoring the situation at Real Madrid.
"I'm after three, four or five new players in the summer. We've got lots of targets. We know what we want and I've given the details to the chairman.
"Don't think we will wait to the last day of the season to say 'Who are we going to target now?'.
"The chairman's already busy making plans for the next campaign."
Souness also admitted that he had attempted to bring Nolberto Solano back to the club.
"I did make my interest known in Nobby Solano," added Souness.
"I was told by Aston Villa that under no circumstances whatsoever were they willing to let him leave.
"You can never say never in this game can you?
"But we were given a rebuff in January and were told under no circumstances would he be allowed to leave.
"They clearly think a great deal of him there."