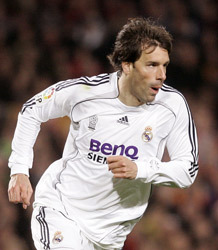 Ghana must beat Burkina Faso today if they are to have any chance of getting out of Group B – full betting here.
Harry Redknapp admits he is interested in signing Real Madrid striker Ruud Van Nistelrooy, but would only move for the Dutchman if he could sell Roman Pavlyuchenko.
The former Manchester United striker, who has fallen down the pecking order at Real after a string of long-term injuries, has been linked with a loan move to Tottenham recently.
"He is interesting," he stated.
"I wouldn't sit here and say it isn't of interest but again it would depend what the deal is because the chairman would deal with that side of the business.
"But he is an interesting player. He was a fantastic player in England and he has been a great player over the years and is a great goalscorer and if he was available it could be of interest and that's about as far as it's gone.
"I wouldn't want to say no we're not interested and then two weeks down the line we go and do something. I wouldn't do that to you, that isn't right.
"It's not impossible that if it was right we could be interested.
"I think Pav is looking to move. I look at him out there in training this morning and think he was tremendous his goalscoring and everything else.
"Only if someone came in and he decided to go and he wanted to go and it was a good offer otherwise it wouldn't be possible.
"I couldn't end up with five strikers, it's difficult enough with four because they are all very good and I like them all.
"I find it hard leaving one of them out of the picture more than I would like to, it's not easy so I wouldn't be looking to have five strikers."
Redknapp also confirmed that the club had not bid for Manchester United goalkeeper Ben Foster as was reported on Monday.
"We have never ever made an offer for Ben Foster so I wouldn't have a clue where that came from," he continued.
"He is a good goalkeeper don't get me wrong but I'm looking for a back up goalkeeper, I have got a first choice goalkeeper here.
"I've got (Heurelho) Gomes and he is my number one goalkeeper and I have been delighted with him so I am looking for somebody to come in to be a number two.
"Ben Foster would want to go to the World Cup the same as David James would want to go to the World Cup and they don't want to come here and sit on the bench as a number two goalkeeper so we never made any offer."
Ghana must beat Burkina Faso today if they are to have any chance of getting out of Group B – full betting here.
Make sure you don't miss any of the last news and articles from World Soccer. Subscribe to World Soccer today and take advantage of our all 50th anniversary offer, saving up to 50%!