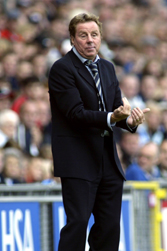 With Harry Redknapp? now confirmed as the new man in charge at Tottenham Hotspur, who will take his place in the hotseat at Fratton Park?
New Tottenham manager Harry Redknapp believes his team are good enough to avoid a relegation battle and climb up the table.
Redknapp took charge as his new side beat Bolton 2-0 at White Hart Lane on Sunday – their first Premier League win of the season.
"I've taken over clubs before where I looked at it and thought 'how do we get out of this one?'," he said.
"But there is real quality in this group of players here. You look through and there are international players. You look at the quality and they shouldn't be where they are, but two points in eight games is an amazingly bad start.
"We have to start working as hard as we did today for each other, picking up points, playing as we did – they passed the ball with real quality which I was really impressed with."
Juande Ramos was sacked as Spurs manager on Saturday evening, with Redknapp officially confirmed as his successor on Sunday – just hours before they were due to face Bolton.
"I met the players at the hotel today, came in on the coach with them and got in the dressing room with Clive Allen (Tottenham development coach)," he said.
"I can't afford to be up in the stands sitting back and saying 'well if they got beat it was Clive's fault and if they had won it was me who picked the team'.
"Clive picked the team, but I got involved straight away. He did a good job but I like to think I had some influence as well."
Redknapp said that the team "needs strengthening in two or three positions" and did not rule out a January raid on his old club Portsmouth. Tottenham have a long-standing interest in the midfielder Lassana Diarra, while during Sunday's win the crowd repeatedly chanted the name of the striker Jermain Defoe, who left Tottenham for Fratton Park in January.
"The last word on players has to be with the manager," Redknapp added. "At Portsmouth, Peter [Storrie, the chief executive] did all the deals but it was my choice on picking the player. If people are giving you players you do not fancy, it is impossible."
Redknapp also admitted he was looking to add "one or two" to his backroom staff and that former Bournemouth manager Kevin Bond, who had a spell under the 61-year-old at Portsmouth, would join him at White Hart Lane.
Looking back at his time at Portsmouth, Redknapp says he nothing but good memories.
"I loved it there and had nothing but great times there," he added.
"That is why it was a wrench to leave because the fans and everybody there have been fantastic to me.
"But I can walk away and I've left them with the best team they've probably ever had.
"I've got nothing but good memories and hopefully people will appreciate that I did a great job and have decided to give this job a go."
With Harry Redknapp? now confirmed as the new man in charge at Tottenham Hotspur, who will take his place in the hotseat at Fratton Park?