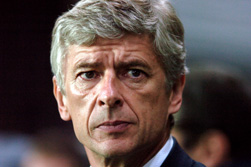 Arsenal manager Arsene Wenger says his team must reproduce the spirit that overcame Real Madrid when they face Juventus in the Champions League quarter-final.
After beating Real in the last round, the Gunners are 2-0 up against Juve going into Wednesday's second leg.
"We have to find the right mixture – defend well yet not only defend but get forward where we can," said Wenger.
"We did not lose it in the second game with Real Madrid but we were not intimidated, we did not lose our game."
Cesc Fabregas hopes to shrug off a bruised foot to play in Turin and Wenger is also hopeful that Emmanuel Eboue will have recovered from a slight groin strain.
But skipper Thierry Henry says whoever Wenger selects will be up to the task.
"Football can always reserve you some surprises – and you always have to stay cool and calm," said the striker.
"Juventus at home are a completely different proposition to the team we played at Highbury.
"This will be the most difficult game of our Champions League campaign this season and what we have done so far will be irrelevant if we do not reach the semi-finals.
"But our greatest motivation is that we know that everything is possible if we play as we did in the home game.
"It was a victory for togetherness."
Meanwhile, Juventus captain Lilian Thuram has promised that his side will attack Arsenal like "a hurricane" and Wenger is expecting a frantic start to the game.
"They might try to score early on and to put us under pressure. I believe that will suit us, to defend well as a team, but not to hide," he stated.
"We have to be positive and try to win the game.
"With the experienced side we face, no matter what happens we will have to be fully focused for 90 minutes."
Juventus coach Fabio Capello believes his side can still win the tie.
"Miracles do happen," said Capello. "We are convinced we can do something extraordinary. In football anything can happen.
"People think we are dead in this competition – they are mistaken."
Subscribe to World Soccer – The essential football magazine.