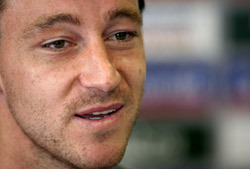 Egypt and Nigeria square off in the Group C opener and we've got the best odds covered.
Chelsea captain John Terry has claimed he, Frank Lampard and Didier Drogba wield the power at Chelsea.
Terry says that all the club's success has come because the trio have reamined at the lcub while successive managers have come and gone.
He told the Daily Express: "It has been a test for me and not only me, but Frank and Didier too. They deserve real credit because people hear about me, but they don't tend to hear about what they do behind the scenes."
Jose Mourinho, Avram Grant, Luiz Felipe Scolari and Guus Hiddink have all come and gone, while Carlo Ancelotti is currently in charge at Stamford Bridge, but Terry believes it is the players who held the club together during some difficult times.
"I can tell people that Frank and Didier are great and it is really important I have got their backing, because we have had so many managers over the last few years," he said.
"But it was important that not only myself, but Didier and Lamps kept everyone together and said listen, as long as we keep doing our job, the fans will be there supporting us. That is what matters, Chelsea Football Club, not the manager or the players."
Terry also suggested that he gained respect from his colleagues by being critical of former team-mate Gianfranco Zola during a training session.
"It is one of those things where you are born like it or not, and thankfully I was blessed with that," he said. "When I was younger and we played a reserve game and Franco [Zola] gave away the ball, I shouted at him. Some of the younger players were saying, 'You can't do that'. I said, 'Why not?' Luca [Vialli] came up to me after the game and said, 'That was fantastic, no one had the guts to say that and you did'."
Egypt and Nigeria square off in the Group C opener and we've got the best odds covered.
Make sure you don't miss any of the last news and articles from World Soccer. Subscribe to World Soccer today and take advantage of our all 50th anniversary offer, saving up to 50%!