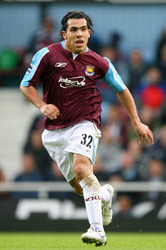 Carlos Tevez's adviser has slammed West Ham's conduct over the Argentine's proposed transfer to Manchester United.
The striker's move to Old Trafford is in danger of collapse due to a dispute over the ownership rights of the player.
Kia Joorabchian, who represents Tevez thgrough his MSI agency, has accused the Hammers of making "promises and assurances, which they have not acted upon or performed".
He says he plans to take the issue up with both the Football Association and Fifa in a bid to resolve the issue.
Joorabchian issued a statement which read: "West Ham have consistently provided private assurances while at the same time making contrary statements to the public at large.
"We can no longer allow these inconsistencies to continue unaddressed.
"We wish to make clear that at all times it has been our intention to find an amicable solution and Carlos Tevez has, at no time, acted improperly in relation to his move to Manchester United as he was given permission via his representatives to talk to other clubs to reach an amicable agreement.
"Over the last six months West Ham have made repeated promises and assurances which they have not acted upon or performed. It is now time for these inconsistencies to be brought to an end.
"We see no alternative but to bring the true circumstances to the attention if a higher authority to aid a rapid conclusion to this issue."
A special 'dispute resolution chamber' will be set up by Fifa, but there remains a possibility that Tevez will miss the start of the season.
Fifa's legal department is very busy with 16 case handlers each dealing with 60 cases at any time.
Mick McGuire, an English board member of FIFPro, who represent cases that go to the disputes resolution chamber, said the issue could ultimately be resolved by the Court of Arbitration for Sport.
"It could drag on," he told The Guardian. "But Fifa make the regulations on transfer windows and know the timeframes. You can take it to CAS, and that would be the final appeal stage."
However, despite the current impasse, United chief executive David Gill remains confident that Tevez will eventually become a United player.
But he said: "Hopefully the case will be heard on an expedited basis but we are not sure whether we will have him signed in time for the new season.
"It may take up to two weeks for the body to be formed, all the paperwork has to be put together and then the case has to be heard.
"Even given that timetable we hope by the time the new season kicks off, Carlos will be training at Carrington."