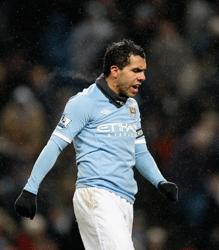 Avram Grant is favourite to be the next Premiership manager sacked as West Ham continue to struggle
Carlos Tevez insists he will leave Manchester City because his relations with "certain executives" at the club have "broken down beyond repair".
City have turned down a written transfer request from the 26-year-old Argentina striker, who is reported to want to leave Eastlands for family reasons.
The player stressed that he has "no personal issue" with manager Roberto Mancini.
"It is something I have felt for some time and have spent many hours thinking this through," he said.
In a statement, the Manchester City captain – who joined from rivals Manchester United 17 months ago – thanked club owner Sheikh Mansour for his "understanding and support".
Tevez also revealed he first asked to leave this summer, and claimed he was convined to stay by his adviser Kia Joorabchian.
City's board have pinned the blame on Joorabchian, describing his actions in relation to Tevez's situation as "disappointing".
But the player himself stated: "I hugely resent suggestions that I have been unduly influenced by others. I wanted to leave in the summer, but was convinced to return. Sadly, my feelings have not changed.
"I am disappointed that the management should now see fit to try to portray the situation in another light.
"My relationship with certain executives and individuals at the club has broken down and is now beyond repair. I do not wish to expand on this at this stage. They know, because I have told them."
City have claimed they have done everything they could to help Tevez, whose two young daughters live in Argentina, deal with his personal issues.
His contract at Eastlands has three-and-half years to run, and City claimed Joorabchian had, in recent months, been pressing for that deal to be extended.
Earlier on Sunday, a statement from the club read: "This is both an unfortunate and unwelcome distraction, and the club will remain focused on the games ahead in what is turning out to be a very promising season."
Following their 3-1 win at West Ham on Saturday, City are second in the Premier League, level on points with leaders Arsenal but having played one match more.
Tevez has been a key part of their success since joining from rivals Manchester United in the summer of 2009 after a two-year spell on loan at Old Trafford.
The forward scored 23 goals in his first season at Eastlands, and has netted 10 of their 24 so far in this campaign.
Avram Grant is favourite to be the next Premiership manager sacked as West Ham continue to struggle
A subscription makes the Christmas perfect gift. Give a lasting gift this year and save up to 33% when you subscribe.