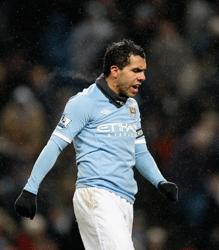 Real Madrid are now a best price 18/5 to win the Champions League after setting up a semi-final showdown with Real Madrid…
Manchester City striker Carlos Tevez is out of Saturday's FA Cup semi-final against Manchester United, manager Roberto Mancini has confirmed.
The Argentine suffered a hamstring injury in Monday night's 3-0 defeat by Liverpool at Anfield and will be out of action for "three to four weeks".
"Tevez is not available for Saturday," said Mancini, ahead of the Wembley tie.
"I think he will recover in three or four weeks. It is a big problem but we can't take any risks."
Tevez's loss is a significant blow to City, who are attempting to win their first piece of silverware for 35 years as well as pursuing a top-four finish in the Premier League.
The 27-year-old has scored 22 goals in all competitions for the Eastland club this season.
"It's a big problem in this moment but we can't take any risk because after this we have six games in the league and, hopefully, a Cup final," said Mancini.
"My hope is that we have him back fit for the last couple of games in the league or the [FA Cup] final."
As to who might replace Tevez in attack at Wembley, Mancini was reluctant give anything away.
"I don't yet know my starting XI. We have 48 hours still to decide," he added.
"Every player knows this is an important match for the club. I trust all my players. We can reach the final if we play well and I'm sure every player, whoever I pick, will give 100% on Saturday.
"Whether Edin [Dzeko] or Mario [Balotelli] play… I don't know. They both have a chance."
Real Madrid are now a best price 18/5 to win the Champions League after setting up a semi-final showdown with Real Madrid…