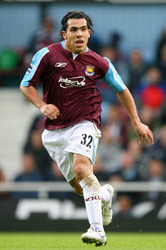 West Ham striker Carlos Tevez has rejected the opportunity to move to Internazionale after the Italian champions imposed a deadline for him to make a decision.
The Argentinian forward has been linked to several clubs abroad but is keen to stay in the Premier League.
A statement from Tevez's representative Kia Joorabchian said: "Inter put a deadline on the decision and Carlos' heart is really in the Premier League.
"He was not prepared to meet that cut-off point put on him."
Tevez said last month that he wanted to leave West Ham, admitting: "I want to join one of Europe's big clubs, that's what I've talked to my agents about."
Joorabchian confirmed though that West Ham have not given up hope of retainng Tevez, although he dismissed claims that the club had offered the player £115,000 per week.
The Iranian added: "That is "absolutely not true".
"He has not been offered that sum of money to stay, but it is true we are still talking and hope to come to some arrangement."
Inter president Massimo Moratti told his club website: "Tevez is no longer a target, we are fine as we are in attack."