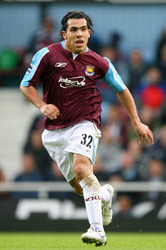 Carlos Tevez's representative Kia Joorabchian has started legal proceedings against West Ham over the striker's proposed move to Manchester United.
Lawyers acting for Joorabchian's companies MSI and Just Sports Inc have issued West Ham with a High Court writ.
Tevez's move to United has stalled over who will be paid the £30m transfer fee with both West Ham and Joorabchian claiming the own the economic rights to the player.
"I can confirm the companies have begun High Court proceedings against West Ham," said Teacher Stern Selby solicitor Graham Shear, the law firm representing MSI and Just Sports Inc.
"A High Court writ was served on the football club's solicitors.
"The Companies seek the court's intervention to compel West Ham to release the registration of Carlos Tevez in accordance with contracts entered into between the parties.
"We are asking the court to intervene so that Tevez can be registered to play with Manchester United as soon as possible.
"We will be making no further statement at this time."
Earlier, Fifa had recommended the Tevez dispute should go to the Court of Arbitration for Sport.
The Football Association and the Premier League had asked Fifa to rule on the matter.
But a Fifa statement read: "Fifa has recommended that West Ham and Carlos Tevez seek arbitration at CAS.
"Under the present circumstances this was deemed to be the best approach and in the interest of all parties.
"What is more, we also believe this to be the fastest way to solve this impasse."
Manchester United chief executive David Gill says his club wants the situation to be resolved as quickly as possible.
"Clearly, this is a dispute between Tevez, the owners and West Ham," said Gill.
"Hopefully, that can be solved relatively quickly and he can come to join us. I would have thought they have taken this decision in the belief that he can join us."
Tevez is registered as a West Ham player, but Joorabchian claims he still owns the striker's economic rights and is therefore entitled to the transfer fee.
However, West Ham tore up an agreement they had with Joorabchian and now claim that any move is dependent upon their approval.
The Premier League, which has insisted that any transfer fee should be paid to West Ham, welcomed Fifa's decision.
"We are supportive of the recommendation that if all parties are in agreement the matter should be referred to the Court of Arbitration for Sport," said a Premier League spokesman.
West Ham also said they were happy for CAS to rule on the issue.
"We're happy for the matter to go to CAS if it is with the agreement of all parties," a West Ham statement said.