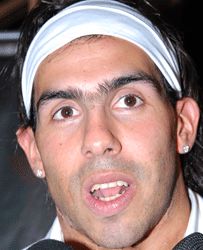 Liverpool take a 1-0 lead to Romania for their Europa League last 32 2nd leg against Unirea – see the betting here.
Carlos Tevez's advisor Kia Joorabchian has confirmed his client should return from Argentina in time to face Chelsea at the weekend.
The Manchester City striker missed Sunday's 0-0 draw with Liverpool after travelling to Buenos Aires, where his partner gave birth prematurely to their daughter.
In the wake of the goalless draw against Liverpool, City manager Roberto Mancini expressed his frustration at Tevez's continuing absence.
Tevez, 26, returned to Argentina over a week ago and was expected to be back in time to face Stoke in Wednesday's FA Cup fifth-round replay at the Britannia Stadium.
However, the Potters trip will come too soon for the £25million summer signing, as he remains with his family in his homeland.
"He's in Buenos Aires," Joorabchian confirmed on Sky Sports News.
"He was given leave because his baby was born prematurely, she's in intensive care and I think the club understand that and they've allowed Carlos to go back home so that he can deal with his family matters."
City boss Roberto Mancini suggested he was not entirely aware of his striker's whereabouts after being denied his services against Liverpool, but Joorabchian insists there is little truth in the misunderstanding.
"He is in Argentina and it's a big problem because we have an important week," Mancini said. "We don't have any depth and, for me, it is not good. Carlos went eight days ago and I don't even know [if he will be back for the game at Chelsea next Saturday]. I don't know if, while he is in Argentina, he has been working [on his fitness]. I hope that Carlos comes back within two days. I have ordered him to come back and I hope in the next few days he can come back."
Joorabchian denied claims that the club was unaware of the player's whereabouts.
"I think that is maybe not quite correct, because the club have been informed on a daily basis about the status of Carlos and his baby," he added. "I think Carlos is definitely a person who has given 100% to this team since he arrived, there is no question about that," he said.
Joorabchian also confirmed that Tevez and his club manager had been in direct contact themselves, adding: "They have exchanged messages once or twice.
"He's never asked for any leave of absence in the past and I think when your child is in intensive care it's a very serious matter and I think people would understand that his head would not be here.
"But he hopes to be back for the Chelsea game, he's hoping that things will get better for both his daughter's sake and the for the sake of the fact that he wants to get back and play."
Joorabchian also dismissed concerns about Tevez's fitness levels while he was in Argentina by revealing his client is training with the national team.
"He's training daily with the national team of Argentina out there, he's training one to two hours there to keep himself fit," he said.
"Carlos is a professional, so he understands that side of it, but at the same time he is having to go through a difficult period in his life but he's dealt with it previously and he'll continue to deal with it."
Joorabchian reiterated that Tevez's priorities lie with his daughter's wellbeing, but he expects the striker to be back in England in time for City's visit to Stamford Bridge.
"The signs are very positive in terms of his daughter's recovery," he added.
"We're all crossing our fingers and hoping that his daughter recovers well – that's his main priority.
"For sure he is very focused as he always is. He was hoping to get back for Liverpool but unfortunately the situation didn't get much better.
"But it is getting better (now) and he is keeping the club informed on a daily basis, including the manager, and hopefully he'll be back in time for the Chelsea game."
Liverpool take a 1-0 lead to Romania for their Europa League last 32 2nd leg against Unirea – see the betting here.
Make sure you don't miss any of the last news and articles from World Soccer. Subscribe to World Soccer today and take advantage of our all 50th anniversary offer, saving up to 50%!