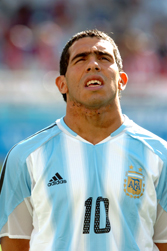 Argentina's Carlos Tevez is to join Corinthians of Brazil after Boca Juniors agreed to transfer the forward for close to $20 million, a director of the Argentine club confirmed.
"We're going to sign a letter of intent. It's $18 million for 80 percent of the (player's) registration plus one and a half million in transfer costs," Boca vice-president Pedro Pompilio said.
Tevez says there is no question that he wants to go."
"The (Boca) board of directors will meet on Thursday and the sale should be approved there," Popilio told Radio Mitre of Buenos Aires.
"The transfer…is on track. The player spent two hours in a meeting with (Boca president) Mauricio Macri and told him he wants to go now. He doesn't want to wait until June."
Tevez, who was the leading scorer with eight goals in six games at the Athens Olympics and regarded as one of the brightest prospects in world football, is expected to leave for Brazil in the next few days.
"What saddens us and annoys us a bit at the same time is that our best player, and at such a young age, should have played such a short time at this club," added Pompilio.
"We wanted him to stay and play the next edition of the Libertadores Cup (in 2005)."
Tevez, who helped Boca win the Libertadores Cup in 2003 and reach this year's final, has attracted interest from some of Europe's biggest clubs.