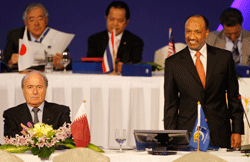 Peterborough have been eased to a best price 7/4 for League One promotion after their 1-0 defeat to MK Dons last night…
Mohamed Bin Hammam has suggested that is it time for FIFA president Sepp Blatter to step down, after 13 years in charge, as he launches his bid to take charge of world football's governing body.
The Qatari, a former ally of Blatter, will run against the long-time FIFA president in the election on June 1st this year.
"I was a supporter of Blatter and I have never regretted anything about that – he has contributed a lot for the development of the game," he said. "But he has been there a long time in that position. There must be the question: Mr President – when is it enough?"
Bin Hammam also insists that, should he be elected, he would set a maximum term of office.
"I will limit myself to a maximum of eight years. If I am elected I will bring the proposal back so that the president of FIFA remains only for eight years," he added. "Mr Blatter came wanting eight years, two mandates, then 12 years and three mandates, and now four mandates and actually nothing is changing in the last three or four years.
"I am not saying I am the Godfather of football but I don't see anything moving, anything changing. Most of what we are seeing and hearing is criticism from outside towards FIFA and most of the time I don't think it's fair. This is what is driving me."
Bin Hammam admits that he and Blatter have fallen out over FIFA issues in recent years but insists they are not enemies.
"I see him as a friend," he said. "I wish that although I am presenting my candidacy he doesn't consider me as his enemy.
"In the last two or three years there has been a lot of confrontation between him and me, but in the right place which is in the executive committee, but that is for the better administration of football, it doesn't mean we hate each other."
Peterborough have been eased to a best price 7/4 for League One promotion after their 1-0 defeat to MK Dons last night…
Take advantage of the sales by saving up to 36% on a subscription to World Soccer