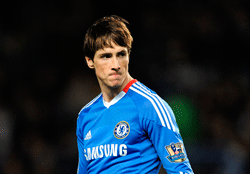 Joe Kiddle has a 10/1 tip for tonight's opening Nations Cup match between Ireland and Wales…
Fernando Torres has admitted Liverpool are a bigger club than Chelsea but says he moved to Stamford Bridge because he was not enjoying his football at Anfield.
The striker has been heavily criticised by Liverpool fans following his £50 million move to west London after three-and-a-half years on Merseyside.
"Liverpool will always be very special to me," he told Spanish radio station Cadena Ser.
"Because of its history, Liverpool is a bigger club, but it is going through a difficult time.
"Money was not important – I left to improve sporting-wise. I thought I would stay one more year and take it as a transition season.
"But a time comes when you lose enthusiasm, you see those in the Spanish national team are playing at a different level
"Then when everything looked black, Chelsea came and showed a real interest in me.
"Chelsea are like Manchester United – the strongest over the last 10 years.
"One [Liverpool or Chelsea] is not better than the other – I'm just happy to have had the fortune of playing for both of them.
"I have been pleasantly surprised by the atmosphere in the Chelsea changing room.
"I thought it would be more distant but the atmosphere is very good. They laugh, they joke and it's nice."
Torres is currently on international duty with Spain ahead of their home friendly with Colombia and admits it is a welcome opportunity to get away from the media glare in England.
"These past 10 days have been very intense and it still is," he said.
"Everything has gone so quickly and it's as though I have a lot of information in my head.
"It seems that a month has gone by instead of a week. I want to enjoy playing with the national team because we are champions of everything.
"This game is good for me to disconnect from it all."
Joe Kiddle has a 10/1 tip for tonight's opening Nations Cup match between Ireland and Wales…
Take advantage of the sales by saving up to 36% on a subscription to World Soccer