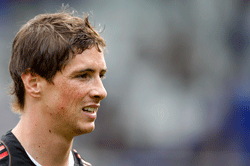 Chelsea are a best price 15/2 to win the Premiership after signing Fernando Torres and David Luiz on deadline day
New Chelsea striker Fernando Torres has spoken of his delight at making a move to Stamford Bridge, saying he has now joined "one of the top clubs in the world".
Torres, a British-record £50 million signing, angered Liverpool fans by suggesting that Chelsea are a bigger club than Liverpool.
Reds fans burned shirts with Torres' name on the back outside the club's Melwood training complex on Monday night.
Torres could make his debut against his old side as early as Sunday when the two teams meet in the Premier League at Stamford Bridge.
"It's the kind of team I like to play against. It's the kind of team I want to play for," he told Chelsea TV. "It's always very tough to play against Chelsea – one of the biggest teams in Europe, always fighting for everything.
"This is the target for every footballer – to try to play for one of the top clubs in the world and I can do it now. I have to be very, very happy as I am.
"It's my dream to win the Champions League and I'm sure I can, playing for Chelsea. I think all my team-mates share that dream with me and hopefully we can.
"I am a big fan of all of the Chelsea strikers. When I was very young I remember Anelka was playing for Arsenal. It's the kind of football I like to play.
"Obviously Drogba is the best striker in the world by far. It's a big responsibility for me to play alongside them because the level they have is so high.
"I am so happy and so proud to be here, finally, after these tough days. At the of the day I can say I'm a Chelsea player and I'm very, very happy.
"It has been two, three, four very, very hard days for me especially for everything I have leaving Liverpool but I can say I'm a Chelsea player. I'm really happy and I'm sure I'm doing one of the biggest steps forward in my career, joining a club like Chelsea.
"I just want to be at the level I'm supposed to stay at. It's a great club with a great responsibility. I'm prepared for the challenge."
Chelsea are a best price 15/2 to win the Premiership after signing Fernando Torres and David Luiz on deadline day
Take advantage of the sales by saving up to 36% on a subscription to World Soccer