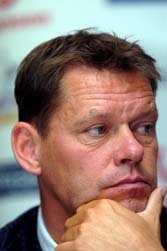 Tottenham have accepted what theyu describe as a "significant" cash settlement from Chelsea as compensation for sporting director Frank Arnesen moving to Stamford Bridge.
Spurs had threatened to report Chelsea for an illegal approach unless they received an acceptable offer by 1200 BST on Friday.
But they confirmed they had reached an agreement "in principle" shortly beofre midnight on Friday.
No figure has been discolsed although it has been reported tha the compensation figure was between £6m and £8m.
Chelsea are reported to have offered defenders Robert Huth and Glen Johnson as part of a financial package, but Spurs were not interested in either player.
Arneson, formerly with PSV Eindhoven, arrived at White Hart Lane in May 2004, to be part of a new management team alongside Jacques Santini as coach and Martin Jol as his assistant.
Santini left less than three months into the season, while Jol was promoted to head coach.