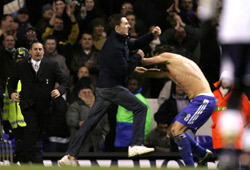 Compare football odds from over 25 bookmakers and claim £500+ in Free Bets. Click here for offer!
Tottenham will almost certainly be charged by the Football Association for failing to control their fans after a supporter ran on to the pitch at White Hart Lane and aimed a punch at Chelsea's Frank Lampard.
The incident occurred after Chelsea beat Spurs 2-1 in Monday's FA Cup quarter-final replay.
An FA spokesman said: "These scenes were totally unacceptable and we will be contacting Spurs as a matter of priority.
"We want to establish what safety and security provisions were in place for the game and to confirm what action was taken against the fans who ran onto the pitch.
"We understand that both individuals were arrested and we would expect them to be given football banning orders."
Police arrested two people, one for encroaching and the other for encroaching and suspicion of assault.
"I saw the guy coming and wanted to keep my eye on him because if I turn my back, I thought I might get one on me," Lampard said.
"I just ducked and the stewards got to him. The way he ran at me I think he'd had a few drinks.
"I don't think he should have been on the pitch in the first place, but you can understand there's a lot of emotion in a match like this.
"There is a lot of feeling but we celebrated in front of our own fans and for the whole game we had taken a lot of stick.
"If you can't enjoy a victory in front of your own fans it's a bad day.
"People give us stick for a whole game and then complain when we celebrate. That's too much of a one-way street for me. That's not fair.
"When someone gets on the pitch there's not a lot you can do."
Chelsea boss Jose Mourinho played down the incident.
"It could have been worse and the incident with the fan was nothing special," said Mourinho.
"The game was so correct that maybe on the last whistle the security people slept a little bit, but nothing happened so it's okay.
"Frank is happy with the victory."
Tottenham boss Martin Jol added: "I heard there was one supporter, that is not something you would like to see but what can I do about it? I am not responsible for the safety. You don't want that. But I can feel for their frustration and for us [it was] evidence that everyone felt we could do something today."
Chelsea won the game following second-half goals from Andriy Shevchenko and Shaun Wright-Phillips.
Compare football odds from over 25 bookmakers and claim £500+ in Free Bets. Click here for offer!