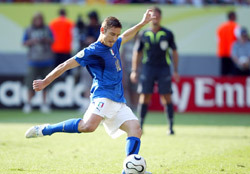 Roma striker Francesco Totti, who has won the European Golden Boot award, says there was a sense of inevitability about his achievement.
The 30-year-old scored 26 times for his club to finish one goal ahead of Real Madrid's Ruud van Nistelrooy.
Totti said: "A year ago everyone was writing me off, saying I was finished, but now I am a World Cup winner and top goalscorer. It was meant to be."
The Golden Boot is decided on a points system, which is weighted according to the relative strength of each of Europe's leagues.
Van Nistelrooy could have moved level with Totti in Real's last game of the season against Real Mallorca on Sunday, but he limped off injured after just 33 minutes.
"I feel sorry for Van Nistelrooy," added Totti.
"I can imagine how bitter he must have felt, but he is still a great player and deserves full respect for fighting until the end."
Totti has not played for the Italian national side since the World Cup to take a break from international football.
But he has hinted he might be willing to return to play the remainder of the Euro 2008 qualifying campaign.
"In July, I will telephone team manager Gigi Riva and I will tell him how I am and what I am thinking of doing. Then we will see," said Totti earlier this month.