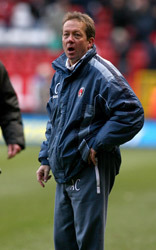 In what looks a tricky season ahead for some teams in the Premier League, who do you think will face the drop?
Alan Curbishley, who quit West Ham on Wednesday, paid the price for a disastrous transfer policy, according to leading agent Kia Joorabchian.
Curbishley resigned as the club's manager, complaining transfer policy had been taken out of his control. But agent Kia Joorabchian, an adviser at Upton Park, said Curbishley had contributed to his own downfall.
"The board left it in the hands of someone they assumed was capable, things went wrong," he told BBC Sport.
"I think from the day Curbishley entered the club, he made most of the decisions with regard to the incomings of Luis Boa Morte, Nigel Quashie, Dyer and Ljungberg," added Joorabchian.
"I wasn't deeply involved at that time but it was pretty clear cut that he was very much involved in those.
"I think the board realised that there were a lot of mistakes made during that period when Mr Magnusson was in charge.
"Not to put blame on either of them but the salaries that were being given and the players that were being brought in were probably not the board's idea of taking the club forward."
Towards the end of last season West Ham had a wage bill approaching £50m a year, which made it dificult for the club to sign new players.
"Your wage structure has to be able to cope with the players coming in and if you have a lot of players on your books with high salaries, who are probably not very productive on a day-to-day basis," Joorabchian stated.
"Your first stage is to release some of that wage structure to get into the transfer market again.
"I think it's very sad what happened to West Ham in the last year, with the players and the direction which they went.
"I do feel for Curbishley because he's a manager who has resigned under pressure but, unfortunately, the game has become so competitive that I think every manager understands that there are three major issues.
"You have to succeed in the transfer window; you have to make sure you have a winning side; and – when you're at a club like West Ham – you have to play good football."
In what looks a tricky season ahead for some teams in the Premier League, who do you think will face the drop?