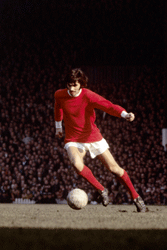 George Best, regarded by many as one of the greatest players to have played the game, has died in a London hospital after suffering multiple organ failure.
Best, 59, who underwent a liver transplant three years ago, spent the last two months of his life fighting an infection which ultimately brought about his demise.
"He was a fantastic player. Everybody at United regarded George as being one of the greatest of all time," said Old Trafford boss Sir Alex Ferguson.
"It's very sad because he was a wonderful person, who was very likeable."
Sir Bobby Charlton, who played alongside Best during his Manchester United heyday, said: "He was on a par, at least, with anyone you can name.
"We at Manchester United have learned from our experience with Eric Cantona, we had to treat him differently, make allowances. If, instead of being hostile to George, which I was, we had leaned a bit his way and tried to help him, who knows?"
British Prime Minister Tony Blair described Best as "probably the most naturally gifted footballer of his generation and one of the best footballers our country has produced."
Republic of Ireland and Leeds midfielder Johnny Giles described Best as "the most naturally gifted player I have ever seen.
"He had the lot: balance, pace, two good feet, he was brave, strong and a good header of the ball.
"Pele wasn't as gifted as George Best and I would definitely put George above Johan Cruyff because he had more heart," said Giles.
Best spent the bulk of his playing career at Manchester United, where he made 361 league appearances, scoring 137 goals in the process.
He helped United to the League Championship in 1965 and 1967 but his career highlight came a year later when he was instrumental in United becoming the first English team to win European Cup in 1968. He was also named as European Footballer of the Year that year.
But he walked out on United in his mid-twenties and spent the rest of his career at sides in the lower divisions of English football as well as enjoying a spell in the United States.
Sadly, he spent the last few years of his life as Britain's most infamous alcoholic, culminating in a prison sentence for drink-driving, assaulting a police officer and failing to answer bail.
However, for all his well-documented problems off the pitch, Best will be remembered as one of the greatest players to have graced a football pitch.