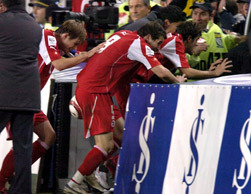 Turkish media have responded angrily to FIFA's punishment ordering Turkey to play its next six home matches abroad and behind closed doors.
The sanctions were in response to a brawl at their World Cup qualifier against Switzerland in Istanbul.
Turkey says it will appeal against the ruling, described by the country's sports minister as politically motivated.
"A Clash of Civilisations," said a headline in the Islamic-leaning Yeni Safak newspaper. "The increasing political hostility in Europe is reflected in the decisions of FIFA's disciplinary committee," it said.
The sanctions, which apply to official matches and not friendlies, mean that Turkey must play their entire qualification programme for the 2008 European championships abroad. They have been drawn alongside European champions Greece, Norway, Bosnia, Hungary, Moldova and Malta in qualifying Group C.
One paper published FIFA's phone and fax numbers and called on readers to send a protest letter to FIFA President Sepp Blatter.
FIFA said in a statement on Tuesday that two Turkish players, Alpay Ozalan and Emre Belozoglu, would be banned for six matches as would Switzerland's Benjamin Huggel.
Turkey were also fined 200,000 Swiss francs.
Turkey's football federation said it would appeal to the Court of Arbitration for Sport (CAS) in Lausanne, Switzerland.
"I describe this decision as unacceptable. This is a political decision rather than a sports decision," Turkey's sports minister Mehmet Ali Sahin told NTV news channel.
Turkey won the game in Istanbul, played on Nov. 16, 4-2 but went out of the World Cup on the away goals rule after losing the first leg 2-0 in Bern four days earlier.