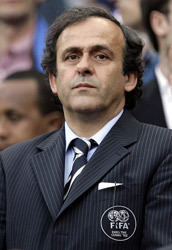 England should have few problems getting a result against Estonia this Saturday and moving one step closer to qualifying for Euro 2008 – 15:00 BBC1
UEFA has signed a deal with the players' union FIFPro in a bid to prevent a repeat of the 'Bosman ruling'.
UEFA president Michel Platini said he hoped the agreement, which covers areas such as transfers and players' rights, will pave the way to a similar accord with the G-14 group of clubs who have headed for the courts to settle their grievances with the sport's governing bodies.
"We already had an agreement like this with the leagues, we now have the agreement with the players, so finally we can now perhaps find an agreement with the clubs," Platini told Reuters.
The G14, which represents 18 of Europe's most powerful clubs, has been in disupte with both UEFA and FIFA over issues such as the release of players for international duty, the format of European competitions and the question of financial compensaation for clubs who release players for international duty.
"I don't want the tribunals or courts to decide the issues of our family," Platini said.
"We are confident that this agreement will lead to us sorting out any problems ourselves. If there is arbitration to be done, it will be based on this deal," said FIFPro secretary-general Theo van Seggelen.
The deal comes 11 years after the 'Bosman ruling' (named after Belgian player Jean-Marc Bosman) when the European Court of Justice gave professionals in the European Union more freedom to change clubs and which fundamentally changed the balance of power between players and their employers.
"When I came to power, I said it was necessary for all of the football family to sit around the table and when that happens we must recognise our officialisation and talk with each other to find our own solutions," Platini said.
FIFPro also agreed with Platini's view that FIFA president Sepp Blatter's proposal to limit the number of foreigners playing for clubs is unlikely to succeed in the EU due to the rules governing the freedom of movement of European workers.
"Of course, we agree with the principle that we must do everything we can to help young players, but this needs a lot more discussion and Mr Blatter needs to be careful when it comes to this in the EU," Van Seggelen said.

England should have few problems getting a result against Estonia this Saturday and moving one step closer to qualifying for Euro 2008 – 15:00 BBC1