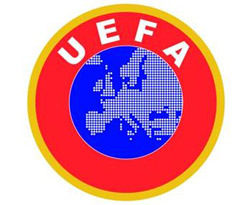 UEFA have have opened disciplinary cases against Real Madrid and Barcelona following incidents at Wednesday's Champions League semi-final at the Bernabeu.
Barcelona's 2-0 win over Real in the first leg of their semi-final was marred by incidents on and off the pitch.
Real have been charged in relation to Pepe's sending off, Jose Mourinho's dismissal to the stands, missiles hurled on the pitch, a pitch invasion and Mourinho's statement to the media after the game.
Barcelona have been charged for the red card picked up by substitute keeper Jose Pinto following a brief flare-up between the two benches at the end of the first half.
A statement on the UEFA website read: "Following last night's UEFA Champions League semi-final first leg between Real Madrid CF and FC Barcelona, UEFA has opened the following disciplinary cases against the clubs.
"The case against Real Madrid is in relation to the throwing of missiles, a pitch invasion, the red card shown to Pepe, the dismissal of coach José Mourinho, as well as the inappropriate statement given by Mr Mourinho to the media after the match (UEFA Disciplinary Regulations, Article 5 – Principles of conduct).
"The case against Barcelona regards the red card administered to José Pinto. Both cases will be heard by the UEFA Control and Disciplinary Body on Friday, May 6."
Both cases will be heard by UEFA's disciplinary board on 6th May.
Barcelona had already indicated that they were considering taking legal action against Mourinho after he made the claim that the club's sponsorship deal with charity UNICEF meant they were given favourable treatment by officials.
"Jose Mourinho severely criticised the referee Herr Stark and insinuated that UEFA treated Barca favourably. The club's legal department are now studying whether to take his remarks to the UEFA disciplinary commission," Barca said in a statement on Thursday morning.