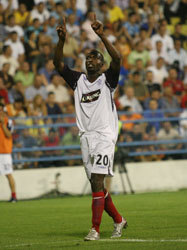 Win FREE Bets in our Premiership Quiz every day until the season starts! Click here for more info!
Uefa is to hold an inquiry into the alleged racist chants that occurred during Rangers' 1-0 Champions League qualifying victory over FK Zeta.
Goalscorer DaMarcus Beasley and Jean-Claude Darcheville were both subjected to verbal abuse by the home supporters.
"We have decided to open an investigation as there were many witnesses who reported the problems," Uefa spokesman William Gaillard told BBC Five Live.
"Our policy is zero tolerance towards racism. We take this issue seriously.
"We have to find out the hard facts and that will be done through the reports of the referee and the delegates. Also, if there were any other independent observers at the game, send us their reports and we always take those into account.
"We will be thorough in our investigations."
Beasley urged football authorities to take action.
"That's something Fifa and Uefa must fight with and solve," he said.
"This is the 21st century and we are still having trouble with it.
"I've faced that kind of situation throughout my whole career in Europe, not so much during my playing days in England, but even in Holland I've had similar problems."
Red Star Belgrade could face Rangers in the Champions League – a prospect which concerns Beasley.
"I remember playing against Red Star Belgrade, and I mention them as they could be our next opponents in the Champions League, and I still remember some racist chants at that away match," he said.
"I will discuss the situation with Rangers because I feel strongly about it and we will decide if we should file a complaint."
Uefa will also consider incidents in which bottles were thrown from a stand when Zeta were denied a penalty in the second half – and an incident where Rangers substitute Charlie Adam was struck by a lighter thrown by the an individual in the crowd.
Win FREE Bets in our Premiership Quiz every day until the season starts! Click here for more info!