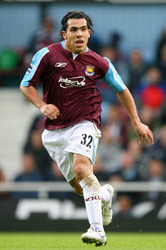 Manchester United chief executive David Gill expects a speedy resolution to the ongoing Carlos Tevez transfer saga.
Fifa's Dispute Resolution Chamber has been asked to intervene in United's bid to sign Tevez from West Ham United.
Both Premier League clubs requested Fifa to arbitrate on the Argentine striker's contractual situation, but there haave been fears that the backlog of cases at Fifa would mean that the deal may not be completed in time for Tevez to sign before the transfer window closes on August 31.
Gill, though, is confident that the issue will be resolved in time for Tevez to become a United player before the new season starts.
"What you find in these situations is that Fifa and the necessary bodies try to make sure that the player can play, whether it's for Manchester United or for West Ham," Gill said in South Korea.
"I would have thought that they will do everything they can to make sure the decision is made within the appropriate period.
"Theoretically, you can go from the Dispute Resolution Chamber to the Court of Arbitration for Sport.
"Whether both parties choose to do that, we'll have to see, but that would be the final arbiter.
"The issue is effectively who owns the economic rights to the player, who owns the registration of that player, and therefore what happens to any monies that we might pay.
"Can he unilaterally terminate his registration? Can he move on? That's the fundamental issue."