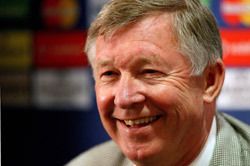 Fancy some FREE tickets to the FA Cup Final on May 19th? If so play or daily quiz for your chance to land a pair of the hottest tickets around. Click here to find out more!
Manchester United manager Sir Alex Ferguson says his side will have no fears when they meet Milan in their Champions League semi-final on Tuesday.
United will be without several key players through injury for tonight's tie but Ferguson senses a confidence among his players which bodes well for the encounter.
"I don't have any fears about it," he said. "The mood in the camp pleases me.
"At this time of year you are always looking for signs of nerves and, while we have concerns about the injuries, I don't see any nerves."
United will be without Rio Ferdinand, Gary Neville, Nemanja Vidic, Mikael Silvestre, Craig Cathcart, Louis Saha, Ji-Sung Park and Kieran Richardson for the first leg at Old Trafford.
Patrice Evra is only likely to be fit enough to make the bench, which could also include fringe players such as Chris Eagles, Fang Zhou Dong, Kieran Lee and Michael Barnes.
"It is not going to be an easy but the name of the game in these situations is to win and not lose a goal," added Ferguson.
"That is our plan and, if we can achieve it, it would be a massive result for us.
"All the big players are available. The only problem I have is maybe having an adequate bench, but I'm happy with the squad I've got.
"Obviously you miss players like Rio Ferdinand and Gary Neville in big matches but the spirit is good.
"We should expect a very good performance with the players we have.
"At this level, with the players we have, there is always going to be expectation," he said.
"The desire of the players is to reach a higher level. The quality of the opposition and the importance of the occasion demand the best performance.
United beat Roma 7-1 in their last Champions League match at Old Trafford but Ferguson has played down expectations of a repeat of that performance.
"The performance in the last round was very, very good and that must give the players confidence," he continued.
"But it is difficult to think we can get to that standard. That was a once-in-a-lifetime result.
"But, with the players we have, we should still expect a very good performance.
"They haven't done much wrong this season. The team spirit has got better because the group is getting to know each other.
"The important players are playing and it's good to have them."
One of those, newly-crowned PFA Player of the Year Cristiano Ronaldo, will again be centre of attention, pitting his talent against another contender for best player in the world, the Brazilian Kaka.
Kaka v Ronaldo
Milan manager Carlo Ancelotti refused to be drawn on who, out of Ronaldo, or his Brazilian schemer Kaka, is the better player at the moment.
"I agree they are among the top of their profession at the moment but it's extremely difficult to say who is the best," he said.
"That will be decided by the player who manages to determine the outcome of the game and who is ready to play for the team."
Ancelotti has only one injury worry, over keeper Dida, with Zeljko Kalac on standby if the Brazilian fails to overcome a shoulder problem.
"We are certain we can do well," he added. "There isn't any worry, just a great respect for the team we are going to play.
"Certainly the adrenaline will increase before the game but at the moment we are perfectly relaxed."
Paolo Maldini, who will be playing in his eighth Champions League semi-final, says Milan have no plans to man-mark Ronaldo.
"We do not man-mark, we have a different way of marking," he said.
"Ronaldo moves around a lot so he will be picked up by whoever is close to him.
"Ronaldo is fast, strong and scores goals. He is good in the air and extremely inventive.
"While I may not be as fast as I once was, I can still get around the pitch."
Fancy some FREE tickets to the FA Cup Final on May 19th? If so play or daily quiz for your chance to land a pair of the hottest tickets around. Click here to find out more!