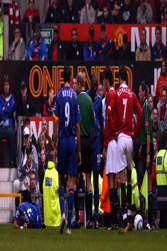 Manchester United striker Ruud van Nistelrooy claims he has done nothing wrong after being charged with serious foul play by the Football Association.
Van Nistelrooy is accused of trying to deliberately hurt Arsenal full-back, Ashley Cole, during Sunday's fiery Premier League encounter at Old Trafford.
"We both just went for the ball. It was a 50-50 ball and in these situations two players can collide," he said.
He has been given until today to "deny or admit" the charge, which will be heard on Thursday.
The Dutch striker connected with inside of the full-back's right knee before apparently raking down Cole's leg during Sunday's game. Although the incident took place a few feet from an assistant referee, Van Nistelrooy was not booked for the challenge, nor was a foul awarded. However, the FA is studying video footage of the incident.
If suspended he would miss the Premiership matches against Portsmouth and Newcastle, as well as the derby at Manchester City.