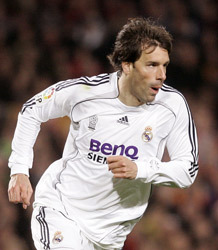 Arsenal v Ipswich: Dan Billinghurst gives his top betting tips for tonight's Carling Cup 2nd leg…
Ruud van Nistelrooy will not sign a contract extension with Hamburg after they blocked his return to Real Madrid.
The 34-year-old was hoping to return to Madrid on a short-term basis to cover for the injured Gonzalo Higuain.
Higuain is out for four months following surgery on his back, leaving Real short of attacking options.
Van Nistelrooy had been keen on a return to Madrid where he scored 46 goals in 68 games during an earlier three-and-a-half-year tenure.
But the Bundesliga club have blocked the move and want the veteran striker to maintain their push for a place in Europe next season.
"A contract extension with Hamburg can now be ruled out," his agent Rodger Linse told the Hamburger Morgenpost.
"He cannot understand it (why Hamburg did not let him go) and he has got a problem with it. It is very, very painful.
"It is sad because Hamburg have no idea what they are doing to Ruud with this decision."
Arsenal v Ipswich: Dan Billinghurst gives his top betting tips for tonight's Carling Cup 2nd leg…
Take advantage of the January sales by saving up to 36% on a subscription to World Soccer