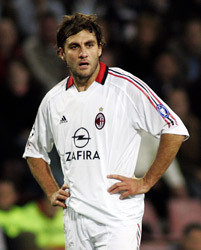 Italy striker Christian Vieri has admitted that he has joined Monaco in the hope of securing a place in Italy's World Cup squad.
"Going to the World Cup is an objective and in order to do that I need to play matches," Vieri said after signing an 18-month contract.
Vieri joins from Milan after struggling to secure a regular place in the starting eleven.
"The most important thing for me is to play on a regular basis," he said.
"Physically I have no problems at all. Of course I need matches but I'm desperate to play and to prove myself."
"I have plenty of experience and I can still score goals. I know what Monaco want from me and I'm ready for the challenge."
Monaco president Michel Pastor believes Vieri could insprie the team to qualify for next season's Champions League.
"We expect a lot from him (Vieri)," said Pastor. "We're happy to have him and we hope he will help us reach our goal, which is to qualify for the Champions League".