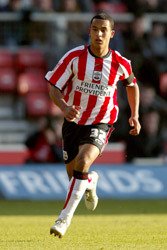 Arsenal are close to unveiling Theo Walcott as their new signing after the Southampton striker agreed terms and passed a medical.
The highly-rated 16-year-old is moving to Arsenal for a fee of £12.5m after opting to join Arsenal ahead of a clutch of Premiership clubs.
Walcott cannot technically sign a professional contract with the Gunners until his 17th birthday on 16 March.
He is likely to be unveiled alongside Arsenal manager Arsene Wenger at Highbury later today.
There had been a suggestion that Walcott would be loaned back to Southampton for the rest of the season, but Wenger would prefer to see the youngster move to Arsenal.
Walcott and his family have chosen Arsenal, despite Chelsea being prepared to pay more for the teenager.
Wenger hinted last the weekend that a deal was almost done.
Referring to new arrivals Emmanuel Abedayor and Abo Diaby, he said Arsenal had signed "three players" but then changed that to "two-and-a-half".
Asked if he was referring to Walcott, the Arsenal manager said: "I would like to tell you."
Subscribe to World Soccer – The essential football magazine