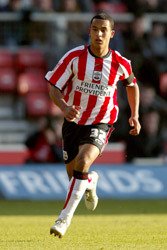 Theo Walcott is set to become the most expensive 16-year-old in world football, with a £12m move to Highbury expected to be completed today.
Southampton and Arsenal are close to agreement on a deal for the striker which would see £5m being paid up front with the remaining £7m dependent on future appearances.
Walcott has chosen Arsenal over Chelsea and if he passes his medical, his move could be completed on Friday.
Walcott cannot technically sign a professional contract with Gunners until his 17th birthday on 16 March.
Although there had been a suggestion hat Walcott would be loaned back to Southampton until the end of the season, Saints boss George Burley is believed to want a clean break.
Arsenal boss Arsene Wenger is a big admirer of the teenager and hinted last weekend that a deal was almost done.
Referring to new arrivals Emmanuel Abedayor and Abo Diaby, he said Arsenal had signed "three players" but then changed that to "two-and-a-half".
Asked if he was referring to Walcott, the Arsenal manager said: "I would like to tell you."
Yesterday, Arsenal striker Thierry Henry admitted he was looking forward to playing alongside Walcott.
"There are a lot of teams trying to get him but if he can join us then I would welcome him here and he would be a benefit," he said.
"He's young, with a lot of desire and skills who obviously loves to play.
"People say there are similarities between us and it's good to hear what he said about me.
"I first saw him play in the Youth Cup and I saw him as a player with great pace and a lot of tricks. I've also seen him play this year."
Subscribe to World Soccer – The essential football magazine