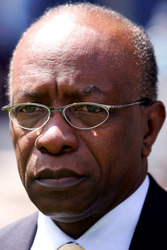 Chelsea are a best price 11/4 to qualify as they head to Man United 1-0 down for their Champions League 2nd leg…
FIFA vice president Jack Warner asked the leaders of England's failed World Cup 2018 bid team to pay for an education centre, according to a report in The Times.
David Triesman and David Richards, the then chairman and deputy chairman of England 2018, told the newspaper that Jack Warner brought up the subject during a meeting in London 18 months ago.
Bidding nations are forbidden from offering gifts to delegates, and the pair claim that the proposal for the centre in Warner's native Trinidad and Tobago was immediately dismissed.
"He didn't say: 'Do this and I'll vote for you'," Richards told the paper. "But it was always at the back of my mind. I did nod my head at Triesman as if to say: Let's not get into this.
"What he said was England should be building this kind of education block as a legacy throughout the world. He did say Trinidad and Tobago wanted one. He said it was an education set-up that he wanted for the children of Trinidad and Tobago," Richards added.
"It was absolutely out of the question," Triesman, who was also head of England's Football Association (FA), said.
England believed Warner's support was vital for a successful bid, but in the end were humiliated after only securing two votes from the 22 voting FIFA delegates.
Warner dismissed the England allegations.
"I don't know what you are talking about," he said. "Why should I ask David Freestone [sic] or somebody for some offices here? Why should I? To do what? It doesn't make sense."
Triesman resigned from his posts at the FA and England 2018 when he was recorded making allegations of bribery against Spain and Russia during the 2010 World Cup.
Chelsea are a best price 11/4 to qualify as they head to Man United 1-0 down for their Champions League 2nd leg…