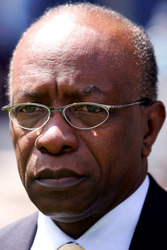 Dan Billinghurst is tipping Brazil to comfortably see off Scotland on Sunday…
Jack Warner will stand unopposed for a sixth term as CONCACAF President, it was announced at the confederation's headquarters in New York City.
The current FIFA vice-president will be re-elected formally during the XXVII CONCACAF Congress in May in Miami, Florida.
"I am honored by the trust placed in me by our members," said Warner, who was originally elected president of CONCACAF in 1990. "I thank each one of them for allowing me to continue working on their behalf."
Warner, who was also recently re-elected as the president of the Caribbean Football Union, is also the Minister of Works & Transport in his native Trinidad and Tobago.
"I remain honored by all of this and I remain humble at the end of the day. While it is Jack Warner who has been reelected, I repeat that it is the work of an entire team, an entire organization that is responsible for our achievements and our day-to-day operations," continued the 68-year-old.
"I remain committed to the various tasks at hand and I will maintain my drive toward seeing us move forward in spite of whatever obstacles we may face along the way."
Dan Billinghurst is tipping Brazil to comfortably see off Scotland on Sunday…
Take advantage of the sales by saving up to 36% on a subscription to World Soccer