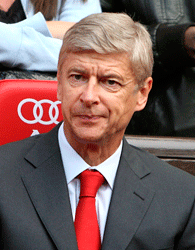 England have been drawn with Wales in the Group stages of the Euro 2012 qualifying campaign – click here for full draw.
Arsene Wenger has blamed the press for misrepresenting his post-match remarks after Michael Ballack accused the Arsenal manager of being a bad loser following his side's 2-0 defeat to Chelsea.
Wenger's claim that "we didn't get a demonstration of football" from Chelsea and that the home side "have a lot of tricks" by utilising fouls to break up counter-attacks were seized upon by Ballack.
The Germany captain criticised Wenger stating the Gunners boss "always says things like this when he loses to find an excuse" and, in response to comments regarding Chelsea's style, that "football is not possession of the ball and playing a nice pass – football is about winning games".
An angry Wenger instead sought to take the media to task for what he perceived as unfair handling of a press conference
"I was full of compliment and praise for Chelsea after the game," Wenger said. "I find it completely unfair from the press that you take one word from my press conference to turn it.
"You did that at Villa, you did that at Chelsea," Wenger continued. "If you look at the intent of my press conference it was positive to the opponent. If you want, we can have a press conference and I can say nothing, don't worry.
"As for (Ballack's comments), I am long enough in England to know that the team who wins can say what they want. They are right. It is my job to take a distance from that and analyse the game in a calm way with a cool head and to analyse what is right."
Wenger added: "I have to live with all the conclusions that Chelsea are a much better side, but I believe what I believe.
"There is only one way to play football – that is to win games and be efficient. The best way to win the games is the way which is most adapted to the qualities of your players and the philosophy of your club. That is what we try to be faithful to.
"You have to accept that when you lose games, the way you play is always questioned – what becomes a fantastic quality when you win, becomes a fantastic mistake when you lose. It is like that. We still have to believe in the way we do things, in the way we play and to show that strength."
England have been drawn with Wales in the Group stages of the Euro 2012 qualifying campaign – click here for full draw.
Make sure you don't miss any of the last news and articles from World Soccer. Subscribe to World Soccer today and take advantage of our all 50th anniversary offer, saving up to 50%!