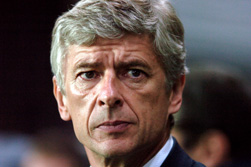 Arsenal manager Arsene Wenger hass virtually conceded the Premier League title following last night's goalless draw with runaway leaders Chelsea.
Immediately afterwards Wenger said: "You always congratulate the winners.
"You make a difference between what has happened on and off the pitch. On the pitch they have done fantastic and deserve to be congratulated.
"But I cannot fault my team here at all, we tried to go forward but Chelsea is a team that defends very well."
Arsenal had two good early chances, boith falling to Robert Pires ho hit the bar with a volleyed effort and then screwed his shot wide with just goalkeeper Petr Cech to beat.
"We played well and as a unit we were very fluent," added Wenger.
"It was important to score first and force them to come out from the back.
"I feel that is where I have regrets because we had opportunities at the beginning of the game.
"Pires took the first chance very well but when I saw the ball at his feet for the second I thought it would be a goal – and when you know Pires nine times out of 10 it is.
"In the second-half we missed a few opportunities but in the first-half we missed clear chances.
"It was very difficult to get behind them because they played in their half.
"It was their game plan for this game and I can understand it because for them a draw was a good result.
"We lack a bit of physical presence up front at the moment and so had no choice but to go through wings or centre along the ground."
Chelsea's assistant manager Steve Clarke refused to accept the title was won.
"It keeps the gap at 11 points," he said. "It's going to be very, very difficult for anyone to catch us now.
"It's been mentioned that we have been leaking goals.
"We spoke about that, addressed the problem and got a clean sheet tonight. The basis of our success all season has been solid defence."